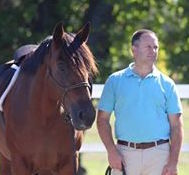 Listen to an interview with Dr. Paul Haefner. What is sports psychology? What can you expect when you work with Dr. Paul? What is his background with horses? What are his 3 wishes for the horse world?....and more
Harnessing the power of the mind in Equestrian Sports. Helping equestrians  learn and apply specific psychological skills to enhance their performances. Helping riders cope with their reactions to accidents or injury such as anxiety, fear and loss of confidence.
Psychology is more than the application of mental and emotional skills to maximize performance. It's the exploration and understanding of the psychological factors that impact or are impacted by our participation in equestrian sport. Given the central role of the partnership between rider and horse, special focus is given to our thoughts, emotions and behaviors as they relate to the ways we build and nurture relationships with our equine partners.